The University of Regina Cougars men's and women's basketball teams have both advanced to Canada West Final Four tournaments.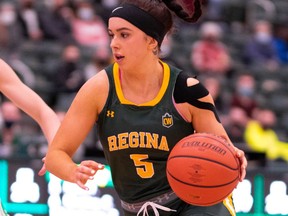 The University of Regina Cougars women's basketball team is off to the Canada West Final Four after engineering a major upset.
Advertisement
This advertisement has not loaded yet, but your article continues below.
On Sunday, the Cougars advanced by defeating the University of Alberta Pandas 80-71 at the Canada West playoff tournament Calgary. The Pandas were seeded second for the tournament, five spots ahead of the Cougars.
Faith Reid led the Cougars with 21 points — courtesy of seven three-pointers — and four rebounds. The Cougars also got strong performances from Jade Belmore (16 points, 12 rebounds) and Cara Misskey (14 points, seven rebounds).
The Pandas, who were ranked seventh in U Sports, had a 14-2 regular-season record. The unranked Cougars were 8-8.
The Canada West Final Four begins March 18 at the University of Saskatchewan. In semi-finals, the U of S Huskies are to meet the University of Lethbridge Pronghorns (6 p.m.) and the Cougars are to oppose the University of Winnipeg Wesmen (8 p.m.).
On March 19, games are set for 5 p.m. (bronze-medal game) and 7 p.m. (gold).
The Cougars' men's basketball team also advanced to the Canada West Final Four, thanks to Sunday's 105-81 victory over the Trinity Western Spartans at a playoff tournament Calgary.
Ben Hillis and Majok Madol each had 20 points and 10 rebounds for the Cougars. Josiah Thomas (17 points), Brayden Kuski (14), Matt Barnard (13) and Arinze Emeka-Anyakwo (10) also scored in double figures for the U of R. Kuski had a team-high nine assists. Hillis added four steals.
The Final Four is slated for March 18 and 19 in Edmonton. In a semi-final, the Cougars are to play the University of Victoria Vikings.
Advertisement
This advertisement has not loaded yet, but your article continues below.
Grappling golds
The Regina High Schools Athletic Association wrestling championships were held Saturday at Archbishop M.C. O'Neill Catholic High School. The gold medallists were as follows:
Female: Leah McMillan, O'Neill (44 kilograms); Zainab Rashid, Campbell (47kg); Jayda Baker, Balfour (50kg); Leann Huang, Campbell (53kg); Lucy Bolig, Campbell (56kg); Brooke Kobylanski, O'Neill (60kg); Teanna Brenner, Thom (64kg); Kamdyn Miller, Miller (68kg); Shelby Guerin-Daniels, Miller (73kg); Aja Petrovitch, Campbell (80kg); and, Kailey Gould, O'Neill (105kg).
Male: Ashton Sloman, O'Neill (41kg); Declan Clayards, Campbell (44kg); Marc Bird, Johnson (47kg); Aairc Lang, O'Neill (50kg); Arieus Cyr, O'Neill (53kg); Javier Tonita, Balfour (56kg); Logan Ziegler, Riffel (59kg); Antonio Londono Velez, Campbell (62kg); Kent Billena, O'Neill (65kg); Abdrahman Kair, Sheldon-Williams (69kg); Nolan Hall, Riffel (73kg); Crixus Walliser, Johnson (77kg); Liam Neithercut, Balfour (82kg); Tyson Green, Sheldon-Williams (90kg); Josiah Hallexx, Campbell (100kg); Charlie Parks, Sheldon-Williams (115kg); James Albeura, LeBoldus (130kg); and, Kayson Alexson, Johnson (130+kg).
O'Neill won the team titles in the 5A male and 5A female divisions. Johnson was the top 4A team.
The top four finishers in each individual weight class are eligible to attend the Saskatchewan High Schools Athletic Association championships, to be held March 18 and 19 at Evan Hardy Collegiate in Saskatoon.
Advertisement
This advertisement has not loaded yet, but your article continues below.
March Madness
The Regina Intercollegiate Basketball League's championship games are fast approaching. The schedule is as follows:
Thursday: 6 p.m. (Junior girls White Division final); 8 p.m. (junior boys White Division); at Martin Collegiate.
Friday: 6 p.m. (junior girls Blue Division); 8 p.m. (junior boys Blue Division); Campbell Collegiate.
March 15: 6 p.m. (senior girls White Division); 8 p.m. (senior boys White Division); Ecole Monseigneur de Laval.
March 17: 6 p.m. (senior girls Blue Division); 8 p.m. (senior boys Blue Division); Luther College High School.
Admission is $5 (adults) and $3 (students in Grades 7 to 12). Children up to Grade 6 are admitted free.
The SHSAA basketball championships are to be held March 25 and 26 at various locations around the province.
The 5A boys event at Hoopla is earmarked for Miller Comprehensive Catholic High School. The 5A girls champion will be determined at Dr. Martin LeBoldus Catholic High School.
Bryden wins provincial title
The Callie's Randy Bryden defeated Saskatoon's Darrell McKee 7-3 on Sunday to capture the Saskatchewan senior men's curling championship in Aberdeen.
Bryden was curling with third Troy Robinson, second Russ Bryden (Randy's brother) and lead Chris Semenchuk.
The women's provincial final was all Saskatoon-affair with Sherry Anderson defeating Tracy Streifel 6-3. Anderson. third Patty Hersikorn, second Brenda Goertzen and lead Anita Silvernagle have won six consecutive Saskatchewan senior women's titles.
Advertisement
This advertisement has not loaded yet, but your article continues below.
The Bryden and Anderson teams advance to the Canadian senior men's and women's championships, Dec. 5-10 (site to be determined).
Anderson and Co. have captured four Canadian senior women's championships. The team finished first in 2017, 2018, 2019 and 2021. The 2020 provincial championship was cancelled due to the COVID-19 pandemic.
The same foursome also won the 2018 and 2019 women's senior world championships. There weren't any men's or women's world championships in 2020 because of COVID-19.
The 2022 senior men's and women's worlds are April 23-30 in Geneva, Switzerland.
Pat C's to face Warriors
The Regina Pat Canadians and Moose Jaw Warriors are to meet in a best-of-five Saskatchewan Male AAA Hockey League first-round playoff series.
Game 1 is set for Friday, 7:45 p.m., at the Co-operators Arena.
Regina finished fourth in the regular-season standings with a 27-11-0-6 record. Moose Jaw (26-17-0-1) was fifth.
The Notre Dame Hounds (35-8-0-1) finished in first place.
The Pat Canadians' Ben Riche led the league in goals, with 32.
Jacob Cossette of the Prince Albert Mintos led the scoring race, with 77 points. He was followed by the Notre Dame tandem of Cole Wirun (69) and Ethan Look (68).
Red Sox dinner
The Regina Red Sox Sports Dinner and Auction is scheduled for April 9 at the Turvey Centre.
Regina-born NFL/CFL punter Jon Ryan and his wife, comedian Sarah Colonna, will be the guest speakers.
Individual tickets are $90. Tables and sponsorship packages are also available.
For more information, visit www.reginaredsox.com.
Regina Leader Post Headline News
Sign up to receive daily headline news from Regina Leader-Post, a division of Postmedia Network Inc.
By clicking on the sign up button you consent to receive the above newsletter from Postmedia Network Inc. You may unsubscribe any time by clicking on the unsubscribe link at the bottom of our emails. Postmedia Network Inc. | 365 Bloor Street East, Toronto, Ontario, M4W 3L4 | 416-383-2300