"Compared to war, all other forms of human endeavor shrink to insignificance. God help me, I do love it so." — George S. Patton (in the above shot played by George C. Scott in his greatest role.)
---
Is the world going to croak?
Put in geological terms, will the Phanerozoic eon, which began with the Cambrian explosion a half billion years ago, end at the close of the Anthropocene epoch, when the human species, which has permanently put its mark on the Earth, commits suicide with nuclear weapons? This became a lot more plausible as soon as Putin rattled his nuclear saber.
Well, life will survive, even if humans do not. And that will happen whether or not the globe warms as much as the IPCC assures us it will. If heat in the climate of our current interglacial interval peaks with both poles free of ice, the Mississippi river will meet the Atlantic at what used to be St. Louis. And yet life will abound, as life tends to do, at least until the Sun gets so large and hot that photosynthesis stops and the phanerozoic finally ends. That time is about a half billion years away. That might seem like a long time, but given the age of the Earth itself—about 4.5 billion years—life here is much closer to the end than the beginning.
Now let's go back to human time.
I've been on the planet for almost 75 years, which in the grand scheme is a short ride. But it's enough to have experienced history being bent some number of times. So far I count six.
First was on November 22, 1963, when John F. Kennedy was assassinated. This was when The Fifties actually ended and The Sixties began. (My great aunt Eva Quakenbush, née Searls or Searles—it was spelled both ways—told us what it was like when Lincoln was shot and she was 12 years old. "It changed everything," she said. So did the JFK assassination.)
Second was the one-two punch of the Martin Luther King and Bobby Kennedy assassinations, on April 4 and June 6, 1968. The former was a massive setback for both the civil rights movement and nonviolence. And neither has fully recovered. The latter assured the election of Richard Nixon and another six years of the Vietnam war.
Third was the Internet, which began to take off in the mid-1990s. I date the steep start of hockey stick curve to April 30, 1995, when the last backbone within the Internet that had forbidden commercial traffic (NSFnet) shut down, uncorking a tide of e-commerce that is still rising.
Fourth was 9/11, in 2001. That suckered the U.S. into wars in Afghanistan and Iraq, and repositioned the country from the world's leading peacekeeper to the world's leading war-maker.
Fifth was the Covid pandemic, which hit the world in early 2020 and is still with us, causing all sorts of changes, from crashes in supply chains to inflation to complete new ways for people to work, travel, vote, and think.
Sixth is the 2022 Russian invasion of Ukraine, which began on February 24, 2022: just eleven days ago as I write this.
Big a thing as this last bend is—and it's huge—there are too many ways to make sense of it all:
I didn't list the threat of thermonuclear annihilation among the six big changes in history I've experienced because I was raised with it. Several times a year we would "duck and cover" under our desks when the school would set off air raid sirens. Less frequent than fire drills, they were far more scary, because we all knew we were toast, being just five miles by air from Manhattan, which was surely in the programmed crosshairs on one or more Soviet nukes.
In fact I put so little faith in adult wisdom, or its collective expression in government choices, that I had a bucket list of places I'd like to see before nuclear blasts or fallout doomed us all. My top two destinations were the Grand Canyon and California: exotic places for a kid whose farthest family venturings from New Jersey were to see relatives in North Carolina and North Dakota. (Of no importance but of possible interest is that I've now been a citizen of California for 37 years, married to an Angelino for 32 of those, and it still seems exotic to me. Mountains next to cities and beaches? A tradition of wildfires and earthquakes? Whoa.)
What's around the corner we turned two Thursdays ago? Hard to tell, in spite of all that's being said by Wise Ones in the links above. Two things I kinda know for sure:
States will continue pursuing what they see as their interests: grabbing land here, doing business there, maintaining or nudging the boundaries of various status quos.
People have changed, because more and more of them are digital now, connected to anybody and anything at any distance, and able to talk, produce "content" and do business—or at least to look and think past national and territorial boundaries. We make our tools and then our tools make us, McLuhan taught. Also, all media work us over completely. We have been remade into digital beings by our wires, waves, and phones. This raises our optionalities in too many ways to list.
I'm an optimist by nature, and since the '90s have been correctly labeled a cyber-utopian. (Is there anything more utopian than The Cluetrain Manifesto?) To me, the tiny light at the end of Ukraine's tunnel is a provisional belief that bad states—especially ones led by lying bastards who think nothing of wasting thousands or millions of innocent lives just to build an empire—can't win World War Wired. Unless, that is, the worst of those bastards launches the first nuke and we all go "gribbit."
Tags: war
There's a thread in a list I'm on titled "NFTs are a Scam." I know too little about NFTs to do more than dump here three thoughts I shared on the list in response to a post that suggested that owning digital seemed to be a mania of some kind. Here goes…
First, from Walt Whitman, who said he "could turn and live for awhile with the animals," because,
They do not sweat and whine about their condition.

They do not lie awake in the dark and weep for their sins.

Not one is dissatisfied.

Not one is demented with the mania of owning things.
Second, the Internet is NEA, meaning,
No one owns it

Everyone can use it

Anyone can improve it
Kind of like the Universe that way.
What makes the Internet an inter-net is an agreement: that every network within it will pass packets from any one endpoint to any other, regardless of origin or destination. That agreement is a protocol: TCP/IP. Agreeing to use that protocol is like molecules agreeing to use gravity or the periodic table. Everything everyone does while operating or using the Internet is gravy atop TCP/IP. The Web is also NEA. So is email. Those are held together by simple protocols too.
Third is that the sure sign of a good idea is that it's easy to do bad things with it. Look at email, which is 99.x% spam. Yet I'm writing one here and you're reading it. NFT's are kind of like QR codes in the early days after the patent's release to the word by Denso Wave early in this millennium. I remember some really smart people calling QR codes "robot barf." Still, good things happened.
So, if bad things are being done with NFTs, that might be a good sign.
---
The image above is of a window into the barn that for several decades served the Crissman family in Graham, North Carolina. It was toward the back of their 17 acres of beautiful land there. I have many perfect memories of time spent on that land with my aunt, uncle, five cousins and countless visitors. The property is an apartment complex now, I'm told.
Back in 2009 I shot the picture above from a plane flight on approach to SFO. On Flickr (at that link) the photo has had 16,524 views and has been faved 420 times as of now. Here's the caption:
These are salt evaporation ponds on the shores of San Francisco Bay, filled with slowly evaporating salt water impounded within levees in former tidelands. There are many of these ponds surrounding the South Bay.

A series microscopic life forms of different kinds and colors predominate to in series as the water evaporates. First comes green algae. Next brine shrimp predominate, turning the pond orange. Next, dunaliella salina, a micro-algae containing high amounts of beta-carotene (itself with high commercial value), predominates, turning the water red. Other organisms can also change the hue of each pond. The full range of colors include red, green, orange and yellow, brown and blue. Finally, when the water is evaporated, the white of salt alone remains. This is harvested with machines, and the process repeats.
Given the popularity of that photo and others I've shot like it (see here and here), I've wanted to make a large print of it to mount and hang somewhere. But there's a problem: the photo was shot with a 2005-vintage Canon 30D, an 8.2 megapixel SLR with an APS-C (less than full frame) sensor, and an aftermarket zoom lens. It's also a JPEG shot, which means it shows compression artifacts when you look closely or enlarge it a lot. To illustrate the problem, here's a close-up of one section of the photo:
See how grainy and full of artifacts that is? Also not especially sharp. So that was an enlargement deal breaker.
Until today, that is, when my friend Marian Crostic, a fine art photographer who often prints large pieces, told me about Topaz Labs' Gigapixel AI. I've tried image enhancing software before with mixed results, but on Marian's word and an $80 price, I decided to give this one a whack. Here's the result:
Color me impressed enough to think it's worth sharing.
Tags: "salt ponds", aerial photography, aviation, color, flying, Photography, window seat
In faith that nothing lasts forever, and that an institution that's been around since 1636 is more likely to keep something published online for longer than one that was born in 1994 and isn't quite dead yet (and with full appreciation to the latter for its continued existence), I've decided to re-publish some of my Linux Journal columns that I hope have persistent relevance. This one is from the February 2007 issue of the magazine.
---
Building a Relationship Economy
Is there something new that open source development methods and values can bring to the economy? How about something old?
I think the answer may come from the developing world, where pre-industrial methods and values persist and offer some helpful models and lessons for a networked world that's less post-industrial than industrial in a new and less impersonal way.
This began to become apparent to me a few years ago I had a Socratic exchange with a Nigerian pastor named Sayo, whom I was lucky to find sitting next to me on a long airplane trip.
We were both on speaking junkets. He was coming from an event related to his latest work: translating the Bible to Yoruba, one of the eight languages he spoke. I was on my way to give a talk about The Cluetrain Manifesto, a book I co-authored.
My main contribution to Cluetrain was a chapter called "Markets are conversations". Sayo asked me what we meant by that. After hearing my answer, he acknowledged that our observations were astute, but also incomplete. Something more was going on in markets than just transactions and conversations, he said. What was it?
I said I didn't know. Here is the dialogue that followed, as close to verbatim as I can recall it…
"Pretend this is a garment", Sayo said, picking up one of those blue airplane pillows. "Let's say you see it for sale in a public market in my country, and you are interested in buying it. What is your first question to the seller?"
"What does it cost?" I said.
"Yes", he answered. "You would ask that. Let's say he says, 'Fifty dollars'. What happens next?"
"If I want the garment, I bargain with him until we reach an agreeable price."
"Good. Now let's say you know something about textiles. And the two of you get into a long conversation where both of you learn much from each other. You learn about the origin of the garment, the yarn used, the dyes, the name of the artist, and so on. He learns about how fabric is made in your country, how distribution works, and so on. In the course of this you get to know each other. What happens to the price?"
"Maybe I want to pay him more and he wants to charge me less".
"Yes. And why is that?"
"I'm not sure."
"You now have a relationship".
He went on to point out that, in his country, and in much of what we call the developing world, relationship is of paramount importance in public markets. Transaction still matters, of course. So does conversation. But the biggest wedge in the social pie of the public marketplace is relationship. Prices less set than found, and the context for finding prices is both conversation and relationship. In many cases, relationship is the primary concern, not price. The bottom line is not everything.
Transaction rules the Industrialized world. Here prices are set by those who control the manufacturing, distribution and retail systems. Customers do have an influence on prices, but only in the form of aggregate demand. The rates at which they buy or don't buy something determines what price the "market" will bear — in a system where "market" means aggregated demand, manifested in prices paid and quantities sold. Here the whole economic system is viewed mostly through the prism of price, which is seen as the outcome of tug between supply and demand.
Price still matters in the developing world, Sayo said, but relationship matters more. It's a higher context with a higher set of values, many of which are trivialized or made invisible when viewed through the prism of price. Relationship is not reducible to price, even though it may influence price. Families and friends don't put prices on their relationships. (At least not consciously, and only at the risk of cheapening or losing a relationship.) Love, the most giving force in any relationship, is not about exchanging. It is not fungible. You don't expect a payback or a rate of return on the love you give your child, your wife or husband, your friends.
Even in the industrialized world, relationship has an enormous bearing on the way markets work, Sayo said. But it is poorly understood in the developed world, where so much "comes down to the bottom line".
I shared this conversation a few weeks later with Eric S. Raymond, who put the matter even more simply. "All markets work at three levels", he said. "Transactions, conversations and relationships". Eric is an atheist. Sayo is a Christian. With those two triangulating so similarly on the same subject, I began to figure there was something more to this relationship business.
I began to ask questions. For example, What happens when you view markets through the prism of relationship? Why do we write free or open source code?
Linus says (in the title of his only book) he does it "Just for Fun". Yes, there are practical purposes — there have to be. Scratching itches, for example. Development communities are notoriously long on conversation (check out the LKML for starters), and on relationship as well. Not a whole lot of transaction there, either, since the code is free. Next question: Are there economies involved?
I think the answer is yes, and they are concentrated on the manufacturing end. We make useful code for its "because effects". Thanks to Linux, much money will be made; but because of it, far more than with it. Just look at Google and Amazon as two obvious examples. Perhaps a billion of the world's Websites are Apache on Linux.
Relationship is involved here, too. Writing code that serves as abundant and free building material is an act of generosity. Dare we say we do it for love? Certainly a lot of us love doing it.
Likewise with performing artists. Musicians don't take up an instrument and develop their skills just to make money at it. They do it for love of the experience, of playing together with other musicians, of giving something to an audience, and to the world.
Of course, professionals like to get paid for their work too. That's what makes them professionals.
What if the goods are essentially free (as in beer, air or love)? That's the case with code, music, art, and anything else that can be digitized and copied. Many artists want or need to be paid for what they do. The question is how we get our love to fund theirs — how we can relate in ways that work financially for both the supply and the demand of essentially free stuff.
The entertainment industry has had an answer ever since the Net showed up. Hollywood wasn't blind to the Net. Quite the opposite. They correctly saw the Net as a way for every device to be zero distance from every other device — and to pass identical copies of anything between anybody a cost that rounded to zero. They saw this a threat to their incumbent business model. So they came up with a way to deal with that threat: DRM, or Digital Rights Management. DRM worked by crippling recorded goods so it can't easily be copied except by those whose rights were managed by suppliers.
It hasn't worked. A few days ago Steve Jobs said so himself, in a landmark essay titled Thoughs on Music, published on February 6. It not only notes the failure of DRM, but subtly recruits customers and fellow technologists to help Apple convince the record industry that it's best to sell music that isn't DRM'd. He concludes, "Convincing them to license their music to Apple and others DRM-free will create a truly interoperable music marketplace. Apple will embrace this wholeheartedly".
The operative verb here is "license".
Let's ignore the record companies for a minute. Instead, lets look behind them, back up the supply chain, to the first sources of music: the artists. Part of the system we need is already built for these sources, through Creative Commons. By this system, creative sources can choose licenses that specify the freedoms carried by their work, and also specify what can and cannot be done with that work. These licenses are readable by machines as well as by lawyers. That's a great start on the supply side.
Now let's look at the same work from the demand side. What can we do — as music lovers, or as customers — to find, use, and even pay for, licensed work? Some mechanisms are there, but nothing yet that is entirely in our control — that reciprocates and engages on the demand side what Creative Commons provides on the supply side.
Yes, we can go to websites, subscribe to music services, use iTunes or other supply-controlled intermediating systems and deal with artists inside those systems. But there still isn't anything that allows us to deal directly, on our own terms, with artists and their intermediaries. Put another way, we don't yet have the personal means for establishing relationships with artists.
For example, I relate in some ways to Stewart Copeland, though he doesn't know it. Stewart is best known as the drummer in The Police, even though the band hasn't recorded an album since 1983 and Stewart has since then established himself as a first-rank composer of soundtracks, including "Rumble Fish", "Talk Radio" and "Wall Street". IMDb lists him as a composer of scores for sixty-nine movies and TV productions. You have to hit "page down" six times or more to get to the bottom of the listings. Still, much as I appreciate Stewart's compositions, I've always loved his drumming. I'm not a drummer, but I'm a serviceable percussionist. (When I pick up bongos, congas, a rub-board or a tambourine, I get approving nods from the real musicians I jam with — as rarely as the occasion arises.) When the Police ceased touring and producing albums, I missed Stewart's drumming most of all.
Last year I got a big charge out of hearing an IT Conversations podcast interview with Stewart, though I was disappointed to hear he doesn't drum much anymore.
Then I heard last week on the radio that the Police may be getting back together and touring again. I can relate to that. But how? Stewart's website is one of those over-produced flash-filled things that recording an performing artists seem to think they need in order to "deliver an experience" or whatever. Nearly every internal link leads to a link-proof something-or-other in the same window, among other annoyances. To call it relationship-proof would be an inderstatement.
So instead let's look at relating through the IT Conversations podcast. I say that because yesterday Phil Windley, who runs IT Conversations, posted Funding Public Radio (and ITC) with VRM on his blog, and listed some of the things he might be looking for from VRM or Vendor Relationship Management. That is, from something that lives on the demand side, but can relate on mutually useful terms with the sjupply side — which in his case is IT Conversations.
Here's the first answer: It can't be limited to a browser. I want a button, or a something, on my MP3 player that allows me to relate not only to IT Conversations as an intermediary, but to the artist as well — if the artist is interested. They may not be. But I want that function supported. What we need on the user's side is a tool, or a set of tools, that support both independence and engagement.
If what we're looking for doesn't exist, how hard will it be to build? I'm sure it won't be easy, but it will be less hard than it was before the roster of open source tools and applications grew to six figures, which is where it stands now. And that's not counting all the useful standards that are laying around too.
What do we need?
First, I think we need protocols. These should be modeled on the social ones we find in free and open marketplaces. They should work like the ones Sayo talked about in his Socratic dialogue with me on the airplane. They should be simple, useful and secure.
Second, we need ways of supporting transactions. This is a tough one, because to work they need to be low-friction. I should be able to pay IT Conversations (or any public radio station, or any podcaster) as easily as I pay for a coffee. Or better yet, as easily as I tip a barista. So PayPal won't cut it. (Not the way I've experienced PayPal, anyway.)
Third, we need ways of selectively and securely asserting our identities, including our choice to remain anonymous. This means getting past sign-on hurdles on the Web, and past membership silos out in the physical world (such as the ones that require a special card, or whatever). Again, the friction should be as low as possible.
Fourth, we need ways of expressing demand that will bring supply to us. Let's say I want to hear other interviews with Stewart Copeland. I don't want to go through the standard Google/Yahoo text search. I want to tell the marketplace (in some cases without revealing yet exactly who I am) that I'm looking for these interviews, and then have them find me. Then I want an easy way to pay for them if I feel like it. As Sayo suggests, I might be more willing to pay something if I can relate to the source, and not just invisibly use goods produced by that source.
In Putting the Wholes Together, which I posted recently at Linux Journal, I said public broadcasting would be a good place to start — not just because public broadcasting needs to find ways to make more money from more listeners and viewers, but because payment is voluntary. Seems to me that when payment is voluntary, relationship will drive up the percentage of those who pay. It's just a theory, but one that should be fun to test.
Soon as I get the time to put it together, I'll put out a challenge for developers (that's you, if you write code) to help out on this. Some developers are already collected at ProjectVRM, which is where we're organizing the effort.
I'm meeting with NPR in Washington, D.C. in a couple hours, and again tomorrow. I'll bring up the possibility of help from you guys when I talk to them. And I'll be in many meetings and talks next week at the IMA Convention in Boston and Beyond Broadcast in Cambridge. Help is welcome.
Let's show these folks how much more they can do because they relate. Let's obsolete those annoying fund-raising marathons when they shut off programming, plead poverty and give you some schwag if you send money. There has to be a better way. Let's build it.
If you're getting health care in the U.S., chances are your providers are now trying to give you a better patient experience through a website called MyChart.
This is supposed to be yours, as the first person singular pronoun My implies. Problem is, it's TheirChart. And there are a lot of them. I have four (correction: five*) MyChart accounts with as many health care providers, so far: one in New York, two in Santa Barbara, one in Mountain View, and one in Los Angeles. I may soon have another in Bloomington, Indiana. None are mine. All are theirs, and they seem not to get along. Especially with me. (Some later correction on this below, and from readers who have weighed in. See the comments.)
Not surprisingly, all of them come from a single source: Epic Systems, the primary provider of back-end information tech to the country's health care providers, including most of the big ones: Harvard, Yale, Mayo, UCLA, UChicago, Duke, Johns Hopkins, multiple Mount Sinais, and others like them. But, even though all these MyChart portals are provided by one company, and (I suppose) live in one cloud, there appears to be no way for you, the patient, to make those things work together inside an allied system that is truly yours (like your PC or your car is yours), or for you to provide them with data you already have from other sources. Which you could presumably do if My meant what it says.
The way they work can get perverse. For example, a couple days ago, one of my doctors' offices called to tell me we would need to have a remote consult before she changed one of my prescriptions. This, I was told, could not be done over the phone. It would need to be done over video inside MyChart. So now we have an appointment for that meeting on Monday afternoon, using MyChart.
I decided to get ahead of that by finding my way into the right MyChart and leaving a session open in a browser tab. Then I made the mistake of starting to type "MyChart" into my browser's location bar, and then not noticing that the top result was one of the countless other MyCharts maintained by countless other health care providers. But this other one looked so much like one of mine that I wasted an hour or more, failing to log in and then failing to recover my login credentials. It wasn't until I called the customer service number thankfully listed on the website that I found I was trying to use the MyChart of some provider I'd never heard of—and which had never heard of me.
Now I'm looking at one of my two MyCharts for Santa Barbara, where it shows no upcoming visits. I can't log into the other one to see if the Monday appointment is noted there, because that MyChart doesn't know who I am. So I'm hoping to unfuck that one on Monday before the call on whichever MyChart I'll need to use. Worst case, I'll just tell the doctor's office that we'll have to make do with a phone call. If they answer the phone, that is.
The real problem here is that there seem to be hundreds or thousands of different health care providers, all using one company's back end to provide personal health care information to millions of patients through hundreds or thousands of different portals, all called the same thing (or something close), while providing no obvious way for patients to gather their own data from multiple sources to use for their own independent purposes, both in and out of that system. Or any system.
To call this fubar understates the problem.
Here's what matters: Epic can't solve this. Nor can any or all of these separate health care systems. Because none of them are you.
You're where the solution needs to happen. You need a simple and standardized way to collect and manage your own health-related information and engagements with multiple health care providers. One that's yours.
This doesn't mean you need to be alone in the wilderness. You do need expert help. In the old days, you used to get that through your primary care physician. But large health care operations have been hoovering up private practices for years, and one of the big reasons for that has been to make the data management side of medicine easier for physicians and their many associated providers. Not to make it easier for you. After all, you're not their customer. Insurance companies are their customers.
In the midst of this is a market hole where your representation in the health care marketplace needs to sit. I know just one example of how that might work: the HIE of One. (HIE is Health Information Exchange.) For all our sakes, somebody please fund that work.
Far too much time, sweat, money, and blood is being spilled trying to solve this problem from the center outward. (For a few details on how awful that is, start reading here.)
While we're probably never going to make health care in the U.S. something other than the B2B insurance business it has become, we can at least start working on a Me2B solution in the place it most needs to work: with patients. Because we're the ones who need to be in full command of our relationships with our providers as well as with ourselves.
Health care, by the way, is just one category that cries out for solutions that can only come from the customers' side. Customer Commons has a list of fourteen, including this one.
The first of these is identity. The self-sovereign approach to that would start with a wallet that is truly mine, and includes all these MyCharts. Hell, Epic could do one. Hint hint.
---
*Okay, now it's Monday, and I'm a half-hour away from my consult with my doctor, via Zoom, inside MyChart. Turns out I was not yet registered with this MyChart, but at least there was a phone number I could call, and on the call (which my phone says took 14 minutes) we got my ass registered. He also pointed me to where, waaay down a very long menu, there is a "Link my accounts" choice, which brings up this:
Credit where due:
It was very easy to link my four known accounts, plus another (the one in Mountain View) that I had forgotten but somehow the MyChart master brain remembered. I suspect, given all the medical institutions I have encountered in my long life, that there are many more. Because in fact I had been to the Mountain View hospital only once, and I don't even remember why, though I suppose I could check.
So that's the good news. The bad news remains the same. None of these charts are mine. They are just views into many systems that are conditionally open to me. That they are now federated (that's what this kind of linking-up is called) on Epic's back end does not make it mine. It just makes it a many-theirs.
So the system still needs to be fixed. From our end.


That's the UI for  the Brother HL-L2305w laser printer, which you can get for $140 right now at OfficeMax (or Office Depot, same thing). It's a good deal. It also took me a whole day to set up.
See, it comes with instructions that say to use the UI above to make CONNECTING WLAN happen. It doesn't. Instead it sits for awhile, says TIMED OUT, and then prints out a page that says "The WLAN access point/router cannot be detected," and gives instructions to locate the printer as close as possible to your wi-fi (that's the WLAN) access point, to make sure you're not using MAC address filtering or other secure things that might prevent connection.
After parking an access point (we have four in our house, all connected by Ethernet through a switch to the cable modem) right on top of the printer, I gave up, assumed it was bad, took it back and swapped it for another that had the same problem, meaning I was dealing with a feature.
Then, after failing to find help in the Brother Product Support Center, I registered the printer and logged in as a now-known customer. In that state I was able to chat with an entity (human, it seemed, but ya never know) who pointed me to a page with useful instructions, plus a video that's also on YouTube, where I should have looked in the first place. Lesson re-learned.
So, if you get one, go straight to that YouTube link and save a lot of trouble/
Just learned Wayne Thiebaud died, at 101. I didn't know he was still alive. But I did know he had a lot of influence, most famously on pop art. Least famously, on me.
Many of Thiebaud's landscapes were from aerial perspectives. For example, this—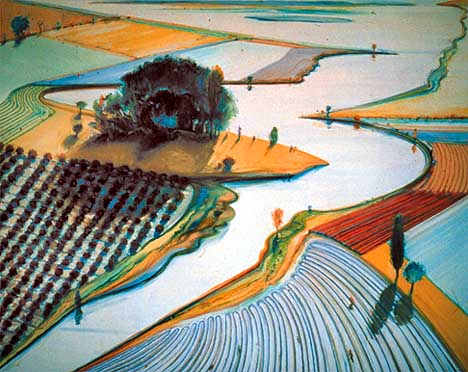 —and this:
In me, those influenced this—
—and this—
—and this—
—and this—
—and this—
—and this—
—and this—
—and even this:
Like Thiebaud, I love the high angle on the easily overlooked, and opportunity for revelations not obtainable from the ground, or in the midst.
Example. Can you guess where these mountains are?
Try Los Angeles. I shot that, as I did the others in this album, during the approach to LAX on a flight from Houston.
Here's another shot in that series:
That's 10,068-foot Mt. San Antonio, aka Old Baldy, highest of the San Gabriel Mountains. These are Los Angeles' own Alps, which wall the north side of the L.A. basin, thwarting sprawl in that direction. The view is up San Antonio Canyon, below which lays a suburb-free delta of rocks and gravel spreading outward from canyon's mouth. Across that mouth, and in a series of of similar ones below is a dam. These are for slowing "debris flows" coming out of the mountains after heavy rains, and sorting the flows' contents into boulders, rocks, and gravel. Businesses that trade in these geological goods are also sited there. Imagine a business selling fresh lava from the base of a volcano, and you have some idea of how rapidly the geology changes here.
Anyway, while there is Thiebaud-informed art to that shot, there is also a purpose: I want people to see how these mountains are alive and dangerous in ways unlike no others flanking a city.
My main influence toward that purpose is John McPhee, the best nonfiction writer ever to walk the Earth—and report on it. Dig Los Angeles Against the Mountains. Doesn't get better than that.
McPhee is 90 now. I dread losing him.
The Cluetrain Manifesto had four authors but one voice, and that was Chris Locke's.
Cluetrain, a word that didn't exist before Chris (aka RageBoy), David Weinberger, Rick Levine and I made it up during a phone conversation in early 1999 (and based it on a joke about a company that didn't get clues delivered by train four times a day), is now tweeted constantly, close to 23 years later. (And by now belongs in the OED.)
In his book The Tipping Point, which was published the same month as The Cluetrain Manifesto (January, 2000), Malcolm Gladwell said, "the success of any kind of social epidemic is heavily dependent on the involvement of people with a particular and rare set of social gifts." He also called this "the Law of the Few." Among those few, one needed three kinds of people: mavens, connectors, and salespeople. Chris was all three. To different degrees so were David, Rick and myself; but Chris was the best, especially at connecting. He was the one who brought us together. And he was the one who sold us on making something happen. He moved us from one Newtonian state to another—a body at rest to a body in motion—by sending us this little graphic:
After we got that, we had to put up the Cluetrain website. And then we had to expand that site into a book, thanks to the viral outbreak of interest that followed a column about the site—and Chris especially, face and all—in The Wall Street Journal. Though a great enemy of marketing-as-usual, nobody was better than Chris at spreading a word. I mean, damn: dude got Cluetrain in the fucking Wall Street Journal! (Huge hat tip to Tom Petzinger for writing that column, and for writing the book's forward as well. 
Want to know Chris's marketing techniques? Read Gonzo Marketing: Winning Through Worst Practices, which followed Cluetrain, and had the best cover ever, with bullet holes (actual holes) through a barcode, and a red page behind it. I'm sure Chris came up with that idea. His graphic sense was equally creative, sharp and—as with everything—outrageous.
Or listen to the audio version, performed by Chris in his perfect baritone voice.
Alas, Chris died yesterday, after a long struggle with COPD. (Too much smoke, for too long. Got my dad and my old pal Ray too. That cigarette smoking has become unfashionable is a grace of our time.)
Good God, what a great writer Chris was. Try Winter Solstice. One pull-quote: "We learn to love the lie we must tell ourselves to survive."
And his stories. OMG, were they good. Better than fiction, and all true.
For example, you know how, when two people are first getting to know each other, they exchange stories about parts of their lives? I remember once telling Chris that my parents were frontier types who met in Alaska. While I thought that would take us down an interesting story hole (my parents really were interesting people), Chris blasted open a conversational hole of his own the size of a crater: "My father was a priest and my mother was a nun." Top that.
Once, when I missed a plane from SFO to meet Chris in Denver, I mentioned that I was standing next to a strangely wide glass wall at my just-vacated gate in Terminal 1. "I know that gate well," he said. "And that glass is a trip. I once missed a plane there myself while I was on acid and got totally into that glass wall." I don't remember what he said after that, except that it was outrageous (for anyone but Chris) and I couldn't stop laughing as his story went on.
Among too many other stories to count, here is one I hope his soul forgives me for lifting (along with that picture of him) from a thread on Facebook:
on this Father's Day I am recalling getting drunk with MY dad on Christmas Eve 1968, as was our custom back then (this month I am 34 years sober). he told me he was suicidal and i knew he meant it. so I turned him on to acid there and then. it was a bit of a rocky trip, but things were better for him after that.

btw, when the trip got really rough, I tricked him into thinking he could fall asleep. "If you want to come down, just take six of these big bomber multivitamin pills and that'll be it." fat chance! but he fell sound asleep. as I sat next to him marveling at the sound of guardian angel wings softly beating over us, THE PHONE RANG!!! OMG. at like 4am! and worse, it was my judgmental hyper-Catholic MOTHER!! she said…

hello, is your father over there

….yes… I said.

are you two taking LSD?

oh no! had she gone psychic??

….yes… I said, fearful of what was coming next.

THANK GOD, she said. SOMETHING had to give.

and then:

"well, have a good trip," she said, and rang off.
I'll leave you with this, from a post on Chris's Rageboy blog called Dust My Boom. It was written on the occasion of an odd wind coming toward Boulder that now seems prophetic toward the future that came three days ago when a wind-driven fire swept across the landscape, eventually roasting close to 600 homes, a hotel, and a shopping center. Read the whole thing for more about the wind…
There's so much you don't know about me. Cannot ever, no matter how hard I try to make it otherwise. I have been places, done things impossible to recount. I remember nights of love, each different from all the rest. I have sat beside the dead in the room with the open windows. I have seen those ships on fire off Orion's shoulder.

Yeah well. I wrote something into the cluetrain manifesto that must have raised some eyebrows among our more knowing cousins. And it went like this:

The sky is open to the stars. Clouds roll over us night and day. Oceans rise and fall. Whatever you may have heard, this is our world, our place to be. Whatever you've been told, our flags fly free. Our heart goes on forever. People of Earth, remember.

So I should end this now, but that's way too dramatic and drama is the wrong note to end on. I think I need to put in something ordinary here, pedestrian. A joke maybe. A duck walks into a bar…

Because, whatever it is, it's just the normal regular passage of time. Nothing mystical. Nothing shocking. We are born. We grow old. We die. In between, we sometimes get a glimpse of something. If I knew what it was, I'd tell you in a second. I don't know. Take this piece of writing as my prayer flag flapping out in the wind of a day that came on sideways. Who knows where it's headed? Tomorrow I have a con-call at noon, a website to build, and forty-one phone calls to return. Possibly lunch.

What I do know is that if you're lonely and you're hurting, then you're human. What am I telling you this for? Hell if I know. To cheer you up maybe. Let me know if it worked.
And remember the man who said all that, and so much more. He was here for real, and he is missed.
This is about credit where due, and unwanted by the credited. I speak here of Kim Cameron, a man whose modesty was immense because it had to be, given the size of his importance to us all.
See, to the degree that identity matters, and disparate systems getting along with each other matters—in both cases for the sakes of each and all—Kim's original wisdom and guidance matters. And that mattering is only beginning to play out.
But Kim isn't here to shake his head at what I just said, because (as I reported in my prior post) he passed last week.
While I expect Kim's thoughts and works to prove out over time, the point I want to make here is that it is possible for an open and generous person in a giant company to use its power for good, and not play the heavy doing it. That's the example Kim set in the two decades he was the top architect of Microsoft's approach to digital identity and meta systems (that is, systems that make disparate systems work as if just one).
I first saw him practice these powers at the inaugural meeting of a group that called itself the Identity Gang. That name was given to the group by Steve Gillmor, who hosted a Gillmor Gang podcast (here's the audio) on the topic of digital identity, on December 31, 2004: New Years Eve. To follow that up, seven of the nine people in that podcast, plus about as many more, gathered during a break at Esther Dyson's PC Forum conference in Scottsdale, Arizona, on March 20, 2005. Here is an album of photos I shot of the Gang, sitting around an outside table. (The shot above is one of them.) There was a purpose to the meeting: deciding what we should do next, for all of the very different identity-related projects we were working on—and for all the other possible developments that also needed support.
Kim was the most powerful participant, owing both to his position at Microsoft and for having issued, one by one, Seven Laws of Identity, over the preceding months. Like the Ten Commandments, Kim's laws are rules which, even if followed poorly, civilize the world.
Kim always insisted that his Laws were not carved on stone tablets and that he was no burning bush, but those laws were, and remain, enormously important. And I doubt that would be so without Kim's 200-proof Canadian modesty.
The next time the Identity Gang met was in October of that year, in Berkeley. By then the gang had grown to about a hundred people. Organized by Kaliya (IdentityWoman) Young, Phil Windley, and myself (but mostly the other two), the next meeting was branded Internet Identity Workshop (IIW), and it has been held every Fall and Spring since then at the Computer History Museum (and, on three pandemic occasions, online), with hundreds, from all over the world, participating every time.
IIW is an open space workshop, meaning that it consists entirely of breakouts on topics chosen and led by the participants. There are no keynotes, no panels, no vendor booths. Sponsor involvement is limited to food, coffee, free wi-fi, projectors, and other graces that carry no other promotional value. (Thanks to Kim, it has long been a tradition for Microsoft to sponsor an evening at a local restaurant and bar.) Most importantly, the people attending from big companies and startups alike are those with the ability to engineer or guide technical developments that work for everyone and not for just those companies.
I'm biased, but I believe IIW is the most essential and productive conference of any kind, in the world. Conversations and developments of many kinds are moved forward at every one of them. Examples of developments that might not be the same today but for IIW include OAuth, OpenID, personal clouds, picos, SSI, VRM, KERI, and distributed ledgers.
I am also sure that progress made around digital identity would not be the same (or as advanced) without Kim Cameron's strong and gentle guidance. Hats off to his spirit, his laws, and his example.
Got word yesterday that Kim Cameron had passed.
Hit me hard. Kim was a loving and loved friend. He was also a brilliant and influential thinker and technologist.
That's Kim, above, speaking at the 2018 EIC conference in Germany. His topics were The Laws of Identity on the Blockchain and Informational Self-Determination in a Post Facebook/Cambridge Analytica Era (in the Ownership of Data track).
The laws were seven:
User control and consent
Minimum disclosure for a constrained use
Justifiable parties
Directed identity (meaning pairwise, known only to the person and the other party)
Pluralism of operators
Human integration
Consistent experience across contexts
He wrote these in 2004, when he was still early in his tenure as Microsoft's chief architect for identity (one of several similar titles he held at the company). Perhaps more than anyone at Microsoft—or at any big company—Kim pushed constantly toward openness, inclusivity, compatibility, cooperation, and the need for individual agency and scale. His laws, and other contributions to tech, are still only beginning to have full influence. Kim was way ahead of his time, and its a terrible shame that his own is up. He died of cancer on November 30.
But Kim was so much more—and other—than his work. He was a great musician, teacher (in French and English), thinker, epicure, traveler, father, husband, and friend. As a companion, he was always fun, as well as curious, passionate, caring, gracious. Pick a flattering adjective and it likely applies.
I am reminded of what a friend said of Amos Tversky, another genius of seemingly boundless vitality who died too soon: "Death is unrepresentative of him."
That's one reason it's hard to think of Kim in the past tense, and why I resisted the urge to update Kim's Wikipedia page earlier today. (Somebody has done that now, I see.)
We all get our closing parentheses. I've gone longer without closing mine than Kim did before closing his. That also makes me sad, not that I'm in a hurry. Being old means knowing you're in the exit line, but okay with others cutting in. I just wish this time it wasn't Kim.
Britt Blaser says life is like a loaf of bread. It's one loaf no matter how many slices are in it. Some people get a few slices, others many. For the sake of us all, I wish Kim had more.
Here is an album of photos of Kim, going back to 2005 at Esther Dyson's PC Forum, where we had the first gathering of what would become the Internet Identity Workshop, the 34th of which is coming up next Spring. As with many other things in the world, it wouldn't be the same—or here at all—without Kim.
Bonus links: