Navigation for News Categories
Business confidence remains deeply pessimistic as strong inflation, a slowing housing market, and the continuing pandemic weigh on sentiment.
The latest survey shows some improvement in the price for supplies in the construction sector, ANZ says.
Photo: 123RF
ANZ's monthly survey showed those thinking the broader economy will deteriorate this year held steady at a net 42 percent this month.
The more closely followed measure of firms' view of their own prospects perked up with a net 8 percent expecting better times from net 3 percent in the previous survey.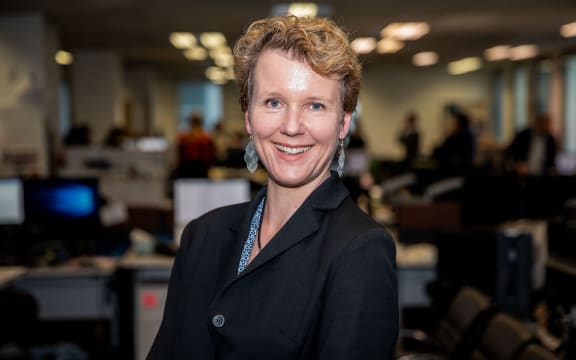 Sharon Zollner
Photo: RNZ / DOM THOMAS
ANZ's chief economist Sharon Zollner repeated the previous month's comments about caution and the pressures on firms, but said it was not completely gloomy.
"Firms remain somewhat wary of the outlook and continue to find the profitability picture hard going in an environment of rising costs and now, in some consumer-facing areas, the prospect of softer demand.
"On the plus side, activity levels appear to have picked up as the disruption to labour supply and activity from the Omicron outbreak has passed its peak," she said.
However, inflation and cost pressures remained a dominant factor in the outlook.
"Pricing intentions are the best forward-looking indicator for inflation – these eased very slightly but remain sky high, and continue to suggest upside risk to our tentative forecast that CPI [consumer price index] inflation may have peaked."
Zollner said inflation pressures remained intense but there was a modicum of comfort in an easing in the rate of growth in price intentions, particularly in the construction sector.
Export expectations improved, while investment and employment expectations softened but remained positive, and the profit outlook was more pessimistic.
"With plenty of wage and other cost inflation in the pipeline, it'll be some time before the RBNZ [Reserve Bank] can conclude that they're getting ahead of the inflation game," Zollner said, repeating ANZ's forecast of another 50 basis point rise in the official cash rate next month.