The visit to the tri-communities is scheduled for Saturday.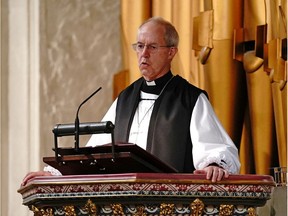 The head of the Anglican Church is scheduled to visit James Smith Cree Nation, the Chakastaypasin Band of the Cree Nation and Peter Chapman Band this weekend to meet with residential school survivors.
Archbishop of Canterbury Justin Welby is expected to visit the community on Saturday. The event at Bernard Constant Community School is to include story sharing by residential school survivors, said a media release issued by the Prince Albert Grand Council.
"A significant purpose of this visit is therefore to repent and atone for where our relationships and actions have done more harm than good — and to honour the sovereignty of Indigenous communities. The visit will be an opportunity to listen, to lament and to pray for justice, healing and transformation in the relationship between the Indigenous Peoples of Turtle Island and the Arctic, and the See of Canterbury and the Church of England," Welby said in a provided statement.
Earlier this month, an Indigenous delegation visited the Vatican, when Pope Francis apologized for the church's role in Canada's residential school system.
In 1993, the Anglican Church of Canada issued an apology to residential school survivors, and in 2019 it apologized for cultural and spiritual harms toward Indigenous peoples.
It's not clear from the statement if Welby will offer an apology.
His visit to Canada was first announced by the Anglican Church of Canada in February, with a scheduled visit to Prince Albert.
Last week, George Gordon First Nation announced the identification of 14 potential unmarked graves. The Anglican Church managed the former Gordon's Indian Residential School from its founding in 1888 to 1946. It closed in 1996.
If you are an Indian Residential School survivor, or have been affected by the residential school system and need help, you can contact the 24-hour Indian Residential Schools Crisis Line: 1-866-925-4419.
Want to know how we decide what to cover and how editorial decisions are made at the Saskatoon StarPhoenix and Regina Leader-Post? Get the weekly Letter From the Editor newsletter from the Editor in Chief Russell Wangersky and join the discussion on what goes into covering news and delivering commentary, both in print and online. Click here to subscribe.
We deliver the local news you need in these turbulent times on weekdays at 3 p.m.
By clicking on the sign up button you consent to receive the above newsletter from Postmedia Network Inc. You may unsubscribe any time by clicking on the unsubscribe link at the bottom of our emails. Postmedia Network Inc. | 365 Bloor Street East, Toronto, Ontario, M4W 3L4 | 416-383-2300