Republicans are criticizing the newly-established Disinformation Governance Board, which the Biden administration has created to fight the spread of disinformation online.
Members of the GOP have criticized the administration's pick to lead the board, Nina Jankowicz. Conservative news outlets have focused on a previous statement Jankowicz made about the Hunter Biden laptop controversy, with the New York Post calling her "partisan."
In a post on the social media platform GETTR on Friday morning, Rudy Guiliani, a lawyer for former President Donald Trump, went after Jankowicz.
"Nina Jankowicz is the whack a doodle Biden put in charge of the Ministry of Truth. Everything I said about Ukraine, Lap Top from Hell and the Irregularities and Illegal activities of the 2020 election has been proven and verified as true. a Judge absolved me of all falsehoods associated with the Jan 6 trespassing episode."
Jankowicz addressed a tweet she wrote in 2020 regarding Hunter Biden's laptop.
"Back on the 'laptop from hell,' apparently- Biden notes 50 former natsec officials and 5 former CIA heads that believe the laptop is a Russian influence op. Trump says 'Russia, Russia, Russia,'" she tweeted at the time.
On Wednesday, Jankowicz retweeted the prior message and stated: "For those who believe this tweet is a key to all my views, it is simply a direct quote from both candidates during the final presidential debate. If you look at my timeline, you will see I was livetweeting that evening."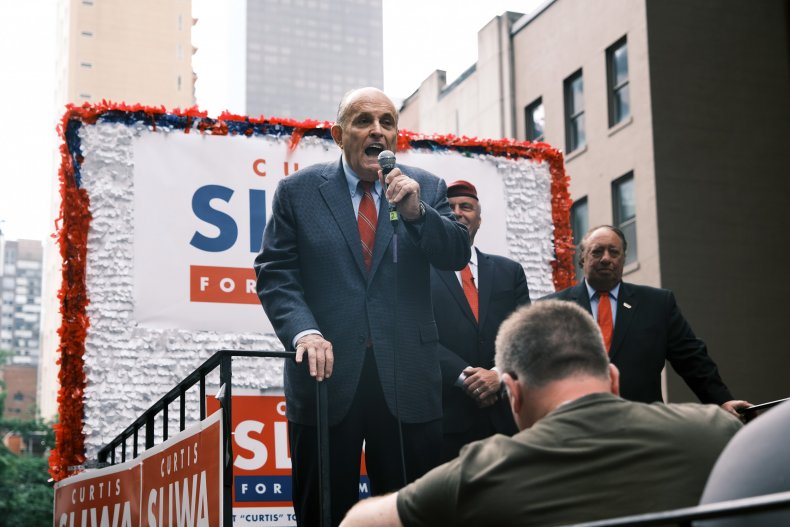 Jankowicz has served as a fellow at the nonpartisan Wilson Center and, according to the center, she was an adviser on strategic communications to the government of Ukraine. She is the author of several books, including "How To Lose the Information War: Russia, Fake News, and the Future of Conflict."
Other Republicans have blasted Biden for creating the Disinformation Governance Board, with some comparing it to the Ministry of Truth, a fictional department in George Orwell's dystopian novel "1984."
"The same party that spent years promoting the Russia collusion hoax, suppressed the Hunter Biden laptop story, & equated parents to terrorists believes it has credibility to control your speech," House Minority Leader Kevin McCarthy tweeted Friday morning. "Biden must immediately abandon his plan to create an Orwellian Ministry of Truth."
The new Disinformation Governance Board was created under the U.S. Department of Homeland Security, whose secretary, Alejandro Mayorkas, testified during a budget hearing that the board had recently been created to fight the spread of disinformation on the internet.
Newsweek has reached out to the White House and the Department of Homeland Security for comment.